That's how busy my fall was. October 5th at the Savannah Room -- the Green Party -- was three months ago, and I'm just writing about it now. Anyway, it was a night to remember for the musicians involved, and for Ellie and I, who scrambled to put it all together. I got to play with guys I haven't played with in decades (no guff!), in front of friends from every part of our lives. Dan played with every musician who hit the stage. 
Rich Challenger started things off with 2 a cappella numbers, and finished with Dan and Ian Esquivel on bass and drums for a rousing rendition of Bill Withers' "Usin' Me". 
I played a mix of Green Achers tunes and various other stuff, all backed by Dan, Ian, Andy Bentley (guitar) and Frank Barth (dobro & mandolin). It was just like riding a bike, we rocked out as hard as we could, and finished with Sunday Drivin'. Encore? You must be joking. No, not joking, and we played Cigarette Smoke. Wow. Somebody (Andy) was so excited they wrote "Jiks" on the bathroom wall.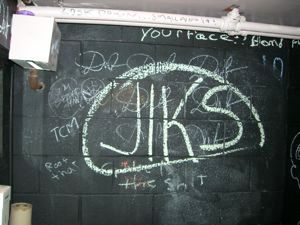 Next up was Yawn Temiseva playing solo, and he was great, playing "Fuque The Government" and some delicious tunes from his latest album. Then he got up again with Paul Shikata, Marcus Temiseva, and Adam Khedheri and they did two Baggage Handlers songs: "Crane Shot" and "Intrusive Bag". First time ever the BHs have played live I think. Historic. 
Finally it was Lung Slug, playing all of the tunes I love so much. Dave McKellar and I were calling for "Bulk Eraser", even after they played it. I decided I will always remember the evening as Lungstock, and I thank all of the friends and musicians, and the folks at the Savannah. It's a night we won't soon forget. (Aside: and in one of many amazing subplots, Marcus got to play "Stupid Guy" live with his brother -- a song he first heard when he was just a kid and Yawn was writing for Lung Slug.)
Original post date: Jan 18, 2008